If anyone finds themselves overwhelmed by vegetables, the Monday Shop are looking for donations/swaps: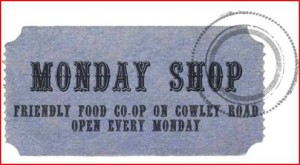 Dear Allotment Secretary,
We have grown substantially over the last 12 months and now need to expand our network of producers.
Although Allotment holders aren't producers, I know from having my own allotment that often there is a surplus which one just can't deal with at the time.
We currently sell organic fruit and veg and are keen to keep with this. Although we don't expect allotments to be certified organic, we ask for no spray produce only.
Everything must be grown by the producer, and otherwise going to waste: we don't sell bought-in goods.
Monday Shop runs from East Oxford Community Centre and producers would be very welcome to bring their surplus on an ad-hoc basis, with the option to swap for other veg and/or a swap with Monday Shop. It is a non profit making project run by volunteers.
Please find below further information on Monday Shop, we are contactable via
our Facebook page
, by email at 
eastoxfordmondayshop @ gmail.com
or contact me, Rachel, on 07970 780514.
Monday Shop
Monday Shop is a food coop on Cowley Road which sells surplus food otherwise ending up in landfill/compost.
We work with producers from the Farmers market to save food going to waste.  We offer the produce for sale by donation in an attempt to make organic food more affordable to a wider market.
We currently get fruit and veg from Cultivate, Ashtree Farm and The Clays.  We buy organic eggs via Cultivate (from FAI) and bread from Cornfield bakery in Wheatley.  We offer free tea and often have cake by donation, in order to encourage people to sit in, chat and meet new people.  This is fundamental to our ethics.
We open on a Monday because it is after the weekend, and hope it offers people who can't get the to Farmers markets over the weekend a chance to buy organic, fresh, local produce.  We open 4pm till 7pm to encourage the post-school and post-work crowd.  We are run entirely by volunteers and Monday Shop takes no profit from the produce.  Any small amount we may make on the bread takings gets reinvested into the project – through printing fliers or similar.
We are now looking to open our shop out to surplus veg from more suppliers.  We currently get 40-60 customers each week over the 3 hours, and would hope that we can increase that alongside increasing the produce on offer.
Many thanks for taking the time to read this, please feel free to share with any of your friends who grow their own no spray produce.
Rachel.
Monday shop seeking donations of surplus veg